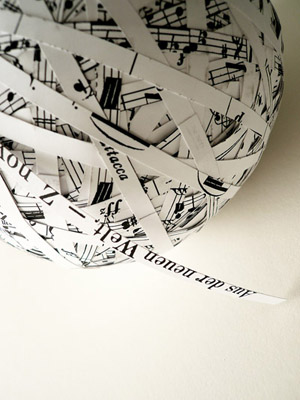 Passing Time
Opening Reception: Tuesday, January 31, 5pm to 7pm
Ezra and Cecile Zilkha Gallery
FREE!

Passing Time, a new exhibition of recent works by fourteen international artists in a range of media, explores the multiple and converging meanings of the phrase "passing time." The exhibition is organized by the Center for the Arts and curated by Ginger Gregg Duggan and Judith Hoos Fox of c2—curatorsquared. There will be a gallery talk at 5:30pm by Ms. Fox and artists Stefana McClure and Siebren Versteeg.
The various meanings of the phrase "passing time"—spending time, time to die—are explored in the evocative imagery of the works in Passing Time—video, photography, sculpture and works on paper. Some artists turn to sport, some to music; some refer to nature and its rhythms to explore concepts of time—short term, long term and terminating. Others partner with time itself in their making of art. Time is a concept that philosophers and physicists ponder. Time provides a framework that orders, measures and defines. We spend time, we waste it, we keep it; time flies, it drags. It is elastic in its perception—long when we are young, gaining momentum as we age. The Passing Time exhibition explores the relationship between the time of our life and the time of the eons.
Stefana McClure has participated in group and solo shows internationally, including at ArtON in Bonn, Germany; Bartha Contemporary in London, England; and the Dumbo Arts Center in Brooklyn, New York. In 2001-2002 she received a Pollock-Krasner Foundation Grant and has been a three-time artist-in-residence at the Field Institute Hombroich, Stiftung Insel Hombroich in Neuss, Germany.
Siebren Versteeg is a multimedia artist who, in addition to writing his own software code, co-opts online media and commercial databases to create hi-tech works that critique the very sources he usurps. For Mr. Versteeg, hacking and piracy are acts of political reclamation, a response to Americans' collective loss of faith in the political process.
Passing Time also features works by Matthew Buckingham, Jonathan Callan, Luis Camnitzer, Rineke Dijkstra, Ken Fandell, Shaun Gladwell, Felix Gonzalez-Torres, Leandro Katz, Katrin Korfmann, Philipp Lachenmann, Su-Mei Tse, and Bill Viola.
Passing Time will be on view from Friday, January 27 through Sunday, March 4, 2012.
Image top left: Shaun Gladwell, Storm Sequence, 2000, Video still. Courtesy the artist & Anna Schwartz Gallery