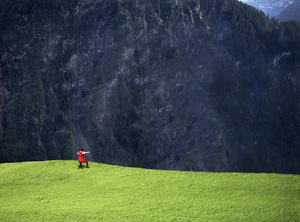 Interview with Ginger Gregg Duggan and
Judith Hoos Fox, c2 curatorsquared
Curators of Passing Time
By Stratton Coffman '14, Zilkha Gallery Intern
December 6, 2011
How did you come to the passage of time as your area of focus? What prompted you to make a show about time passing?
To answer this question we need to tell you about our curatorial process, how we work as curators. We see as much art as we possibly can. Ginger just came back from the huge art fair in Miami, Miami-Basel. I went to the big fair in London this fall, Frieze, and then to the Venice Biennale. We go to galleries and museums, read periodicals, explore the Internet. And from this looking we try to make sense of what is being made, what it tells us about the world we are living in. Art always leads the way, and reflects where we are. When we see that a number of artists are working on the same idea, or in the same way, that is a clue to us that this might be the beginning of an exhibition. Exhibitions get built over time. We first identified Passing Time as a subject being explored by a great number of artists across the world and across media about four years ago. The Venice Biennale was particularly rich. That is where we saw the Shaun Gladwell Storm Sequence, for example. Maybe it's the speed at which we all live these days, on fast forward, that makes artists start to look at time. Maybe we were particularly aware of the subject because of things going on in our own lives – children growing up before our eyes; an older generation dying.
How does the passage of time figure into your work as curators? How has your understanding of the show changed through the process of creating it?
After we have identified a core of works that demonstrates to us that yes, this is indeed an exhibition that we are interested in pursuing, we continue over the next year, or more, to find works that relate to the subject. We are continually vetting what we are adding, and re-considering what we already have. So the checklist is a moving target, morphing throughout the process. Over time the show gets stronger and stronger. We are hard on ourselves and on each other. That's one of the great aspects of collaboration, we continually question each other. Nothing slips in or slips by. Every decision is deliberate and made in consultation with each other. If one of us has a doubt, we re-consider. It takes time to do the research, gather the potential works, and then hone them, and that time is necessary to create a strong exhibition. Putting together an exhibition like this, with works by a number of artists is not unlike editing a volume of poetry, or short stories, or creating a concert or concert series. Each part has to be just right; to fit with all the others, and the sum has to be more than the individual parts. At least that's our aim.
You curated the show Connectivity Lost at the Zilkha Gallery in the fall of 2010. How is your approach to and understanding of the space different with Passing Time?
The Zilkha Gallery is one of the most impressive, but at the same time, most demanding spaces we have ever worked in. As a curator one has to always keep the nature of the space in mind, yet the space can't entirely determine the program or the exhibition program would be completely repetitive. We knew now, second time around that the North Gallery was a wonderful place for a room sized installation of video, and we are putting Siebren Versteeg's dual projection live feed piece there. We really wanted to take advantage of the elegant glass link to that gallery, and are working with Lee Berman, preparator, and John Elmore, designer, on a way to install the Katrin Korfmann light box piece in this link. I hope we can make this work. We knew that the far back wall needed really strong work on it to hold the space and be read over the length of the room. The Luis Camnitzer Last Words should read powerfully when placed there. We wanted to somehow use the great volume of the room and without huge sculpture, that's hard—we didn't want everything to be flat on the walls, and of course one entire wall is glass and a lot of the work in the show is projected so needs the light to be blocked. Lee told us that they could block off the windows, so we opted to do that, and we saw in a gallery in New York freestanding tilted screens, built simply out of plywood, a clean way to show video not on a wall. So Lee is building several of these on which video will be projected. Each time one works in a space one learns more, so we are really glad to be back at Wesleyan for a second exhibition.
How important is it for you as curators that the conceptual investigations of the your shows (in this case, the passage of time) are enacted and experienced by the visitors, or that they unfold over the course of a show's opening?
As curators we hope that the experience of seeing the exhibitions we have organized sharpens the way visitors see and experience the world that they live in with a more conscious, heightened awareness of the world.
Is there a piece that you find particularly compelling? How so?
This is a question that we can't answer. Each work in the show is there because of the particular voice it brings to the conversation. We are really grateful to the artists, galleries, collectors and museums who have all lent their works, a demonstration of their interest in the project and belief in the validity of the exhibition's thesis, and the professionalism of the gallery to handle and present their work safely and properly.
Passing Time
On view from Friday, January 27 through Sunday, March 4, 2012.
Ezra and Cecile Zilkha Gallery
Tuesday–Sunday, noon–4pm
FREE!

Passing Time, a new exhibition of recent works by fourteen international artists in a range of media, explores the multiple and converging meanings of the phrase "passing time." The exhibition is organized by the Center for the Arts and curated by Ginger Gregg Duggan and Judith Hoos Fox of c2—curatorsquared.
The various meanings of the phrase "passing time"—spending time, time to die—are explored in the evocative imagery of the works in Passing Time—video, photography, sculpture and works on paper. Some artists turn to sport, some to music; some refer to nature and its rhythms to explore concepts of time—short term, long term and terminating. Others partner with time itself in their making of art. Time is a concept that philosophers and physicists ponder. Time provides a framework that orders, measures and defines. We spend time, we waste it, we keep it; time flies, it drags. It is elastic in its perception—long when we are young, gaining momentum as we age. The Passing Time exhibition explores the relationship between the time of our life and the time of the eons.
Passing Time features works by Matthew Buckingham, Jonathan Callan, Luis Camnitzer, Rineke Dijkstra, Ken Fandell, Shaun Gladwell, Felix Gonzalez-Torres, Leandro Katz, Katrin Korfmann, Philipp Lachenmann, Stefana McClure, Su-Mei Tse, Siebren Versteeg, and Bill Viola.
Image top left: Shaun Gladwell, Storm Sequence, 2000, Video still. Courtesy the artist & Anna Schwartz Gallery